Polaris new Side by Side????
SpeedDemon writes:
Spy photo of the new polaris rzr800
It has been rumored for months, but now it looks like the real deal. As soon as more information on the Evil Twin is available, we will put it here. First impressions are that it will put the Rhino to shame. We will have to see about that. It is powered by an 800cc EFI twin cylinder engine. That is going to be nice. It does look shorter than the Yamaha Rhino. Not much room for people to turn it into a four seat UTV. It appears that the seats are lower to the ground that the Rhino, so that should help the center of gravity a bit. And it looks like Polaris did their homework and learned from Yamaha's mistake. They includes nets so your legs won't come out during a roll-over.
Review taken from www.duneguide.com
Nevada ATV/UTV - Fallon Nevada
SpeedDemon writes:

40 Mile Desert / Hot Springs Mountain Run
December 16th 2006

All ATV Enthusiast Welcome

Meet: We will meet at the Conner of Trento Lane And Annette Ave In Churchill County. Trento Lane is located about 8 miles west of Fallon @ The Fallon Live stock Exchange. One on Trento It will Turn From Paved To Gravel Stay On The Gravel Part For about 1 Mile Or So Until You Reach Annette Ave. We will stage right there, Plenty Of room to park your rigs

Time: 10:00 AM

The Ride: This run is in and around the area of the infamous 40 mile desert and the Hot Springs Mountains we will be traveling at slow to moderate speeds with plenty of stops. Distance round trip about 35 miles Bring Water and Lunch or Snacks
The Trail: This will be a easy run on a scale of 1 to 5 this is a 1

Radio: If you have a FRS radio (one of those little FM walkie - talkies) we use channel 5

For more Information Visit http://autos.groups.yahoo.com/group/nevadaatv/
Bruce Cooper
e-mail: dutyandme@yahoo.com



Happy Trails & Sunsets
Bruce & Susan

Web Page: Nevermore
Yahoo Groups: Nevada ATV
King of the Hill Snocross is ON for Dec 2-3, 2006
SpeedDemon writes:

We know everyone is busy basking in the unseasonably balmy 50 degree weather this weekend but the National Weather Service has issued a winter storm warning for mid week.

All Terrain TV had their truck/trailer stolen..be on the lookout!
To all guys in Niagara and surrounding area. About 3pm today at Niagara College a black 98 Yukon and United 26ft trailer were stolen. Trailer is one of a kind can't miss it. The trailer is black, white with chrome strip aluminum wheels and bottom half is chrome checker plate. The trailer was full of quads and camera gear of All Terrain Television. Please keep a look out for this stuff guys.
If you see it call Pete Vandenburg 905 937-1480 home 289 213-4657 cel or Brad Panek 905 957-8542 home 905 518-8503 cel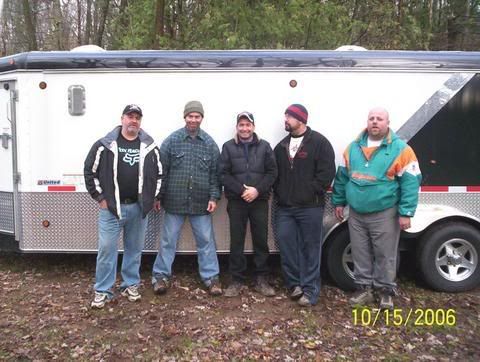 WE NEED THIS STUFF BACK OR IT COULD END THE SHOW PLEASE HELP
Answer/MSR Contingency Program Announced
SpeedDemon writes:

Nov 21, 2006



Apptleton, WI - On Monday, November 20th Fantasy Moto, LLC the Northern Cup Motocross Series, the Great Lakes Quad Series and the Ultimate ATV Experience Series signed a deal that will bring Answer and MSR contingency to all series events in 2007.



With the Christmas shopping season in full swing, the timing of this deal could not be better for parents, friends and family members of racers that follow these series. A set of Answer or MSR gear just moved up the priority list … Ho ho ho! The best thing about this deal is that you don't even have to get up at 5:00 AM this Friday morning to take advantage of the program!



Not only will riders wearing Answer/MSR earn "Race Bucks" toward future gear needs, but all registered riders will also receive a coupon pack worth $150 in discounts toward Tucker Rocky products. Want more – they got it … all registered riders will also have the opportunity to purchase casual wear at 40% off retail pricing.



The Answer/MSR program will pay contingency points to registered riders finishing in the top 10 of their class (minimum rider counts do apply). Points earned will be tallied at the end of the season and converted to "Race Bucks."



"Race Buck" certificates will be given to riders to be redeemed in person at any Tucker Rocky Dealer. Certificates are good on ANY merchandise distributed by Tucker Rocky, including everything from tires, wheels and sprockets to Pro Taper handlebars and of course Answer and MSR gear. It would be easier to list what they do not distribute rather than what they do. This is a huge bonus to racers choosing to take part in this contingency program.



The Answer/MSR contingency program covers all three series: The Ultimate ATV Experience Series (new for 2007), the Great Lakes Quad Series and the Northern Cup Motocross Series.



For further information or to print the rules and registration forms visit www.fantasymoto.com



You may also get the same information and registration forms on the individual websites for each of the involved series: www.ultimateatvexperience.com www.greatlakesquadseries.com and www.northerncupmx.com

There isn't a Biggest Story for Today, yet.
Tuesday, August 25, 2009
·
Tamarack ATV Products
Saturday, May 09, 2009
·
Wounded Warrior Project PigRoast
Friday, August 01, 2008
·
Senate Bill S 2772
Thursday, June 12, 2008
·
URGENT ATTENTION!!!! Bill to ban ATV's for 14yr old and younger in Mass.
Friday, April 18, 2008
·
MARGUERITE'S FIRST ANNUAL CHILDHOOD CANCER LIFELINE HALLOWEEN RIDE
Wednesday, November 28, 2007
·
King of the Hill Snocross Series
Monday, November 05, 2007
·
Fantasy Moto News
Thursday, September 27, 2007
·
Northern Cup Motocross Series
Thursday, July 19, 2007
·
Nevada ATV/UTV 3rd Annual 40 Mile Desert
Tuesday, July 17, 2007
·
Test and Tune Charity for Children's Hospital
Older Articles